Hello Moon Obsessionistas!
It's already mid-August guys! Only a few more weeks to go for the official release of the English Sailor Moon Manga!! Who's excited?! I AM!! Pre-ordered months ago, just as many of you did too and by the looks of it, we're in for a wild ride!! OMG IT'S ALMOST HEREEEE!!!
Awesomeness!
Here's for even more exciting news:
I got some info on the Mexican (and Latin American) version of the Sailor Moon DVDs!
You might remember a few months ago, I went to Expo Comic Mx where Towers Entertainment/Toei/Capital8 had a huge stand with our odangoed heroine all over the place. I talked to one of the representatives who gave me all the info that I already passed along in
THIS
post. He then gave me a phone number to speak to the person responsible for designing and producing the set. I was unable to talk with him personally as I am out of the country now, but I gave my friend a long list of questions for her to ask whenever she had a chance. Se came back to me with all my answers, and I can't tell you how thrilled I am.
First off, I wanted to know what that whole "Talk Box" thing meant. In this picture you can see what I'm talking about. I had never heard or seen anything like it. Why was it "Moon/Mercury" and not "Volume 1, Volume 2"?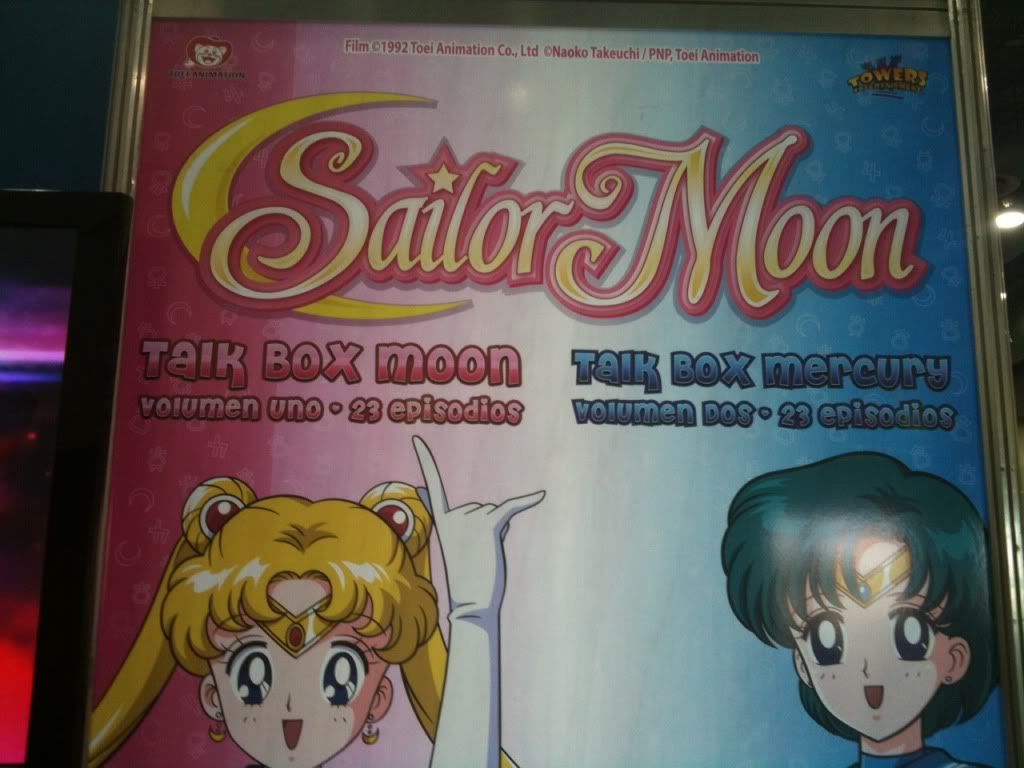 They kindly explained: "Well, it's because the DVDs *
TALK
*". He then proceeded to gift my friend with something that nobody outside the offices had heard before (
my lucky-lucky friend
), a recording of the actual DVD:
"Hello! My name is Serena, I'm 14 years old (...) one day a cat turned me into Sailor Moon and my life has changed since then and I hope yours does too from now on. Thank you for purchasing this product that is full of love and remember that if you misbehave, I will punish you in the name of the Moon!"
(please note that this is what she remembers and may not be the final version).
This is what a "Talk Box" means, that the voice actors from the series will do some newly recorded introductions. By now you must have guessed that each new volume will have a voice actor for the corresponding Senshi make the introduction. Exactly right! One of my concerns is that unfortunately, the voice actress for Sailor Jupiter in Spanish, Araceli de León, passed away around the year 1999. They told me they've searched for a voice that sound as much as Araceli's as possible.

There will be a total of 8 different talk-boxes with 23 episodes divided in 4 DVDs that take up 4 Sagas (each season is now called a "saga"). The rights to Sailor Stars have not been secured for now. There is talk on the web that the rights to Stars were sold to a company in Argentina, but they cleared up that it is not the case. Capital 8 is working closely with Toei to negotiate the entire series and it is a FULLY LICENSED DEAL.
The next question was whether the DVDs would include any extras or special features. As mentioned in the past interview, the voice actors will record the episode introductions that were not originally dubbed in the 90's.These are considered to be the extra features, however there things like "Amy's First Love" or the R, S or SuperS movies are not set to be released at this time.
They will be sold in music shops and department stores (if you live on Mexico, you'll be able to find them in stores like Sanborns, Liverpool, Mix-up, etc. For the rest of Latin America, you might have to check with your local stores) and, of course, you will be able to purchase them in-store or
online
. The upside of buying the set with Capital 8 is that they will include a goodie! We can't say yet what item will be given away, but hey, a free Sailor Moon goodie for buying Sailor Moon goodies!?!? YES PLZ!
Last time I spoke with them, they told me the release was set to mid-August or September. There has been talk in various forums that the DVDs had been pushed back to November, but it seems like a misunderstanding. Capital 8 will have a pre-sale soon.
Capital 8
is going to release an official statement in a few more days,
so any confirmation of
dates
,
prices
and DVD specifics will appear then
. I merely offer a few clarifications and doubts I had. More info to come!
As you can see, there is sooo much to look forward to, and while most English speaking Moonies aren't so excited, just remember, baby steps guys. Each passing day I grow more and more confident that we WILL get the DVDs in good time. If the selling out of Moonie T-shirts at Hot Topic is any indication of how well the series would do here, then I'd say industry moguls should start moving those gears to hurry up and secure their rights too.

Do me one last favor Moonies: My friend went out of her way to make that phone call and obtain this info for us. She specifically said: "I do this for the Moonies, because I really love them!" AAAAWWWww! She loves us guys!! If you are on twitter, please spare a few seconds to thank Paola (@Mrspaiopaio). She will appreciate it!


---------------------------------------------------------------------------------------------
Hola amigos super-Lunáticos!!
Hay muchas noticias en esta entrada del blog, empezando por Estados Unidos, que está a punto de comenzar la venta de la nuevas edición de los mangas en los primeros días de Septiembre. Tristemente por ahora no habrá versión en Español todavía, pero no hay por que desanimarse, tengo algo de información sobre la versión Mexicana (y Latinoamericana) de los DVDs de Sailor Moon!
Como recordarán, hace unos meses asistí a la Expo-Comic Mx donde Towers Entertainment/Toei/Capital8 tuvo un stand enorme con imagenes de nuestra heroína
"cabeza de bombón
" por todos lados. Hablé con uno de los representantes que me proporcionó toda la información que ya compartí con ustedes en
ESTA
entrada. Al final de nuestra platica, me dio un número de teléfono para hablar con la persona responsable del proyecto. No he podido hablar con él personalmente ya que estoy fuera del país, pero le di el número a mi amiga y una larga lista de preguntas para que haciera las preguntas cuando tuviera la oportunidad. Bien Moonáticos, me acaba de contactar mi amiga con todas mis respuestas, y yo no puedo describir lo emocionada que estoy con esta nueva información!!
En primer lugar, lo que yo quería saber era que significaba eso del "Talk-Box". En esta foto que tomé durante la expo se puede ver de lo que estoy hablando. Yo nunca había oído o visto algo así. ¿Por qué fue "Moon / Mercury" y no "Volumen 1, Volumen 2"?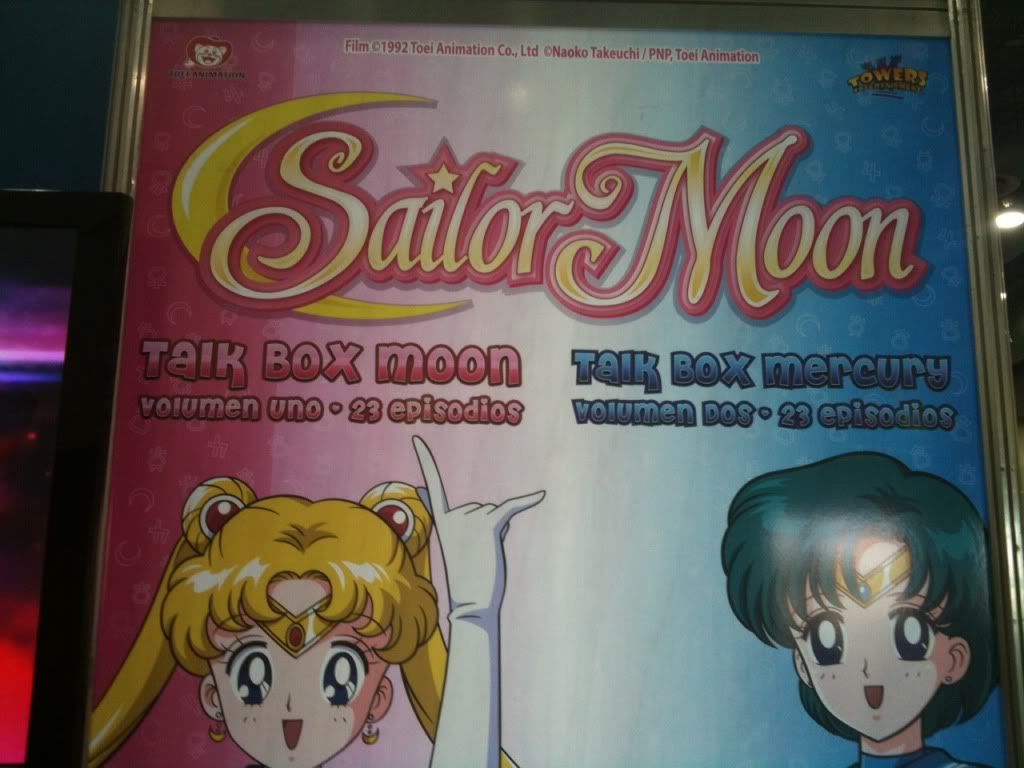 Amablemente nos explicaron: "Pues es que los DVDs *
hablan*
". Mi amiga recibió un regalo que nadie fuera de las oficinas había escuchado antes (
mi suertudísima amiga
), una grabación que aparecería en el disco:
"Hola! Mi nombre es Serena, tengo 14 años (...) un día una gata me convirtió en Sailor Moon y mi vida cambió desde entonces y espero que la tuya cambie a partir de ahora. Gracias por comprar este producto lleno de amor y ya sabes, si te portas mal, te castigaré en el nombre de la Luna! "(Tengan en cuenta que esto es lo que ella recuerda y puede no ser la versión final).



Esto es lo que un "Talk Box" significa, que los actores de doblaje de la serie van a hacer algunas introducciones en los discos. Ya habrán adivinado que cada volumen tendrá una actriz de voz para su personaje correspondienten. Sip, asi es! Sin embrago, una de mis preocupaciones es que, por desgracia, la actriz de la voz de Sailor Jupiter en español, Araceli de León, murió alrededor del año 1999. Me dijeron que han buscado una voz que suene como Araceli lo mejor posible.
Habrá un total de 8 diferentes Talk Box con 23 episodios divididos en 4 DVDs, y abarcan cuatro sagas (cada temporada que ahora se llama una "saga"). Aun están en pláticas para los derechos de "Sailor Stars". Habían rumores en la web que los derechos de
Stars
fueron vendidos a una empresa en Argentina, pero nos aclararon que no es el caso. Capital 8 está trabajando cercanamente con Toei para negociar toda la serie y también cabe aclarar que todo es con licencia Japonesa. Son DVDs ORIGINALES, no piratería. (Digan NO a la piratería... Queremos marineritas, no piratas. XDDD!)
Mi siguiente pregunta era si el DVD inclurá material extra. Como se mencionó en la entrevista pasada, se grabarán introducciónes a cada episodio que no fueron hechos originalmente en los años 90. Esto se considera material adicional. Hay capítulos especiales como "El primer amor de Amy" o las películas R, S o SuperS pero no serán lanzadas a la venta en este momento.
Se venderán en las tiendas de música y grandes almacenes (si viven en México, podrán encontrar en tiendas como Sanborns, Liverpool, Mix-up, etc. Para el resto de América Latina, consulten con sus tiendas locales) y, por supuesto, se podrán comprar en la tienda física o
en línea de Capital 8
. La ventaja de comprar el set con ellos es que se incluirá una sorpresa! No podemos decir todavía qué se regalará exactamente, pero...¿Un articulo de Sailor Moon en la compra de otro articulo de Sailor Moon?? SI QUIERO! :D!!
La última vez que hablé con ellos, me dijeron que el lanzamiento estaba programado para mediados de Agosto o Septiembre. Se ha hablado en algunos foros de internet que el DVD se ha retrasado hasta Noviembre, pero no es mas que un malentendido. Capital 8 tendrá una gran pre-venta muy, muy pronto.
En unos días más, Capital 8 dará un comunicado oficial, por lo que
cualquier confirmación de las fechas, precios y especificaciones de DVD aparecerán entonces
.
Yo simplemente ofrezco algunas aclaraciones y dudas que tenía. Mucha info por venir pronto!
Toda esta información son noticias que hemos esperado por muchos años Moonies! Nunca ha habido un set de DVDs originales de Sailor Moon para el mercado LatinoAmericano a pesar de que la serie fue tremendamente popular. No cabe duda que es la mejor noticia para mí! Yo crecí con esta versión SM y estoy mas que contenta de por fin poseer algo que he deseado por mas de 15 años.
Como se sienten ustedes?! No estan super ansiosos? :D
EMOSHON!!!!!!! Esten pendientes en la
página de Capital 8
para mas información.
Sólo les pido un último favor Moonies: Mi amiga se distrajo de sus actividades diarias para poder hacer esa llamada y obtener toda esta información para nosotros. Ella dijo específicamente: "Lo hago por los Moonies porque realmente los quiero!" AAAAWWWww! Que monito!! Si están en Twitter, por favor tomen unos segundos para agradecer a Paola (@Mrspaiopaio) por su dedicación. A ella le encantará saber que ustedes lo aprecian.