Hi Moonsters!!
OMG I'm sooooo excited about some news I got. At the moment, I'm on vacation visiting relatives and had a chance to go to a Con. I got some detailed information on the international Sailor Moon DVDs, specifically the LAtin-American version! I couldn't wait to get behind my computer to share this information! :D
From June 17th through the 19th,
Expo Comic Mx
convention took place in Mexico City. Before actually assisting the event, I looked through the schedule to see if there was going to be any announcement or special panel from
Towers Entertainment,
the company that acquired the Sailor Moon DVD rights. There was no panel or event related to any releases whatsoever, but I decided to go to the convention anyway.
Just as I walked in, the very first stand in view was the Towers Entertainment/Capital 8 stand. Gracing the very entrance to this con was a 2.5 meter high Sailor Moon display! Believe me, it was a BFD. Screaming, jumping and squealing is an expected reaction in Cycyn. There was plenty of that. xD!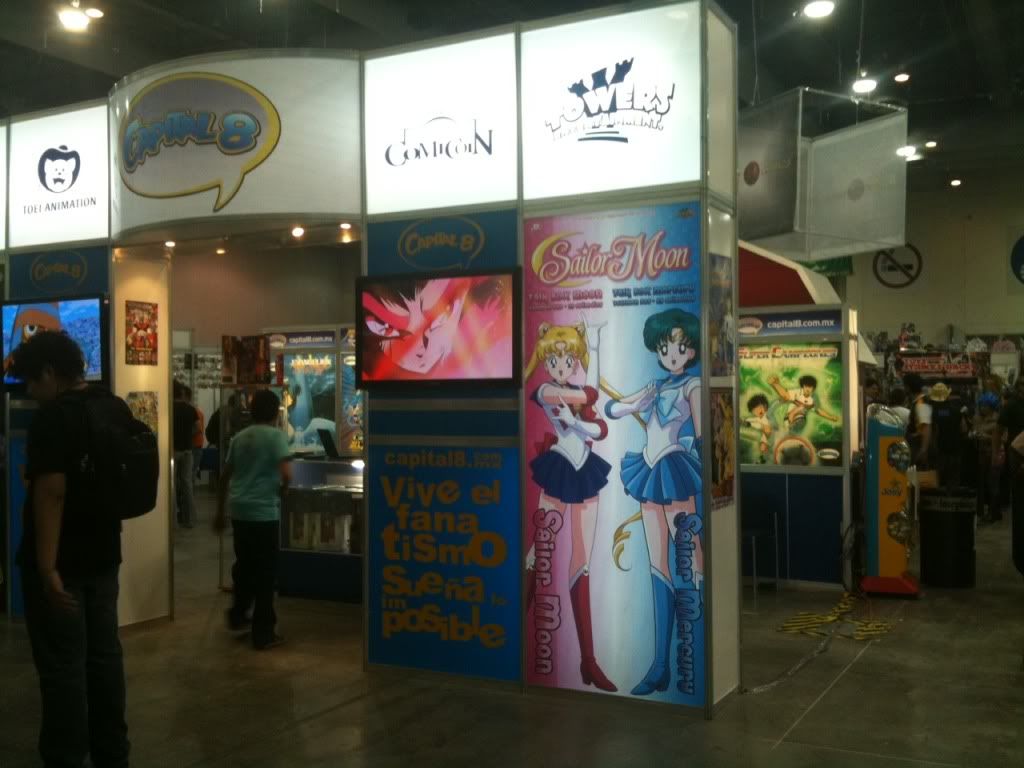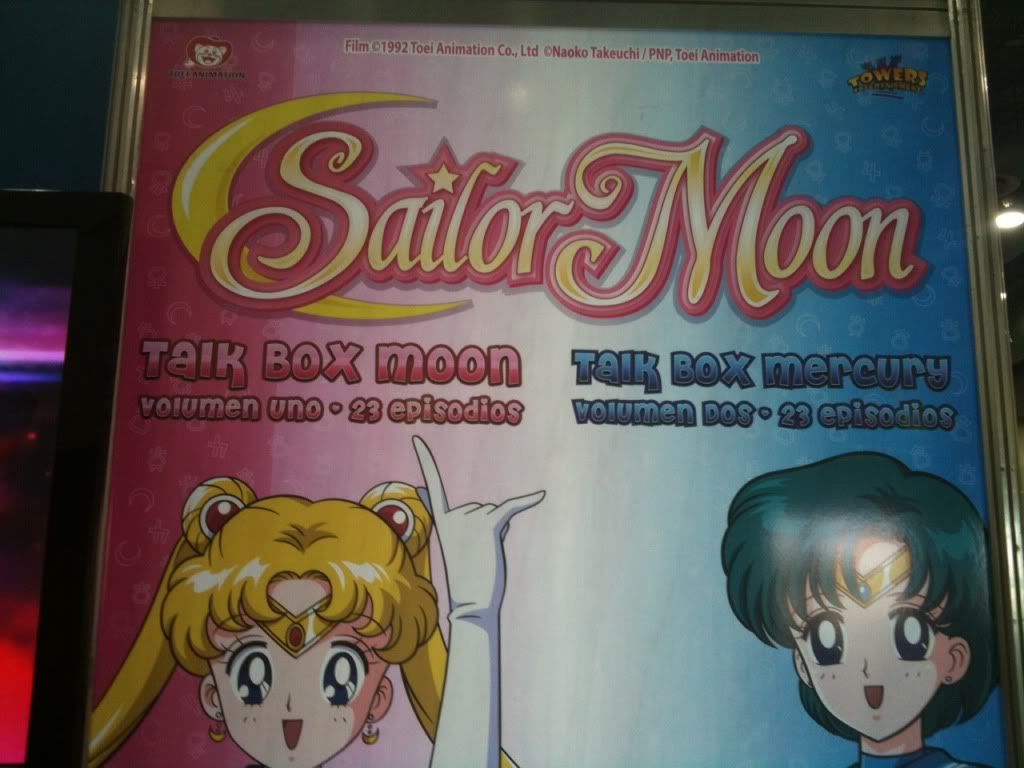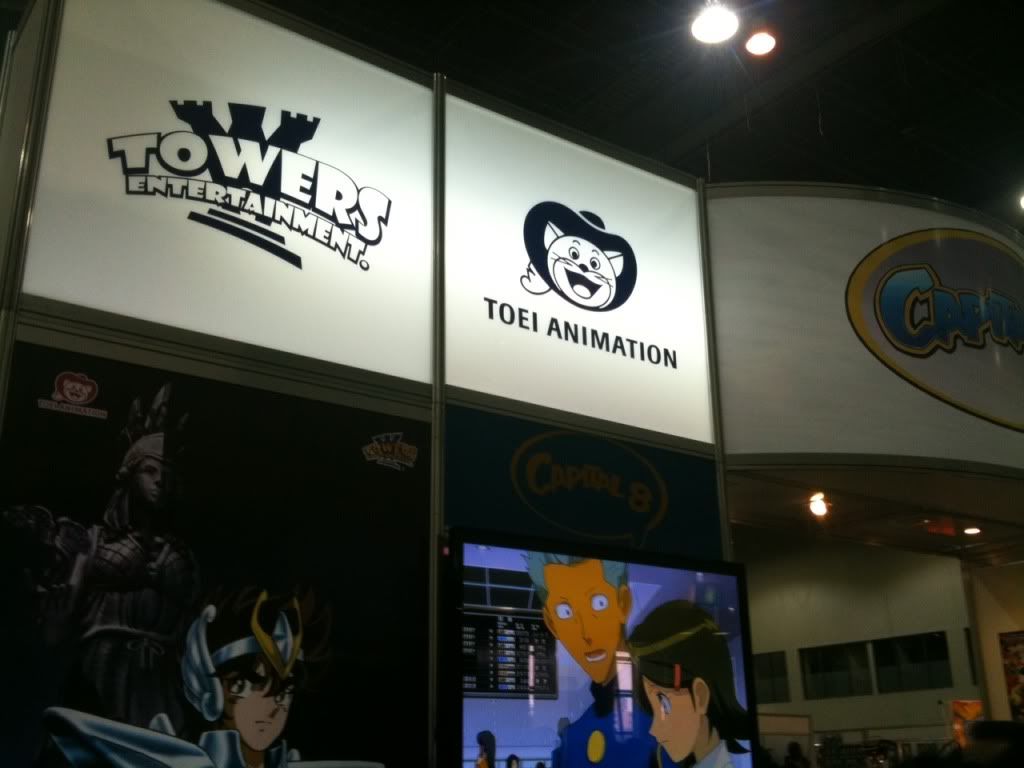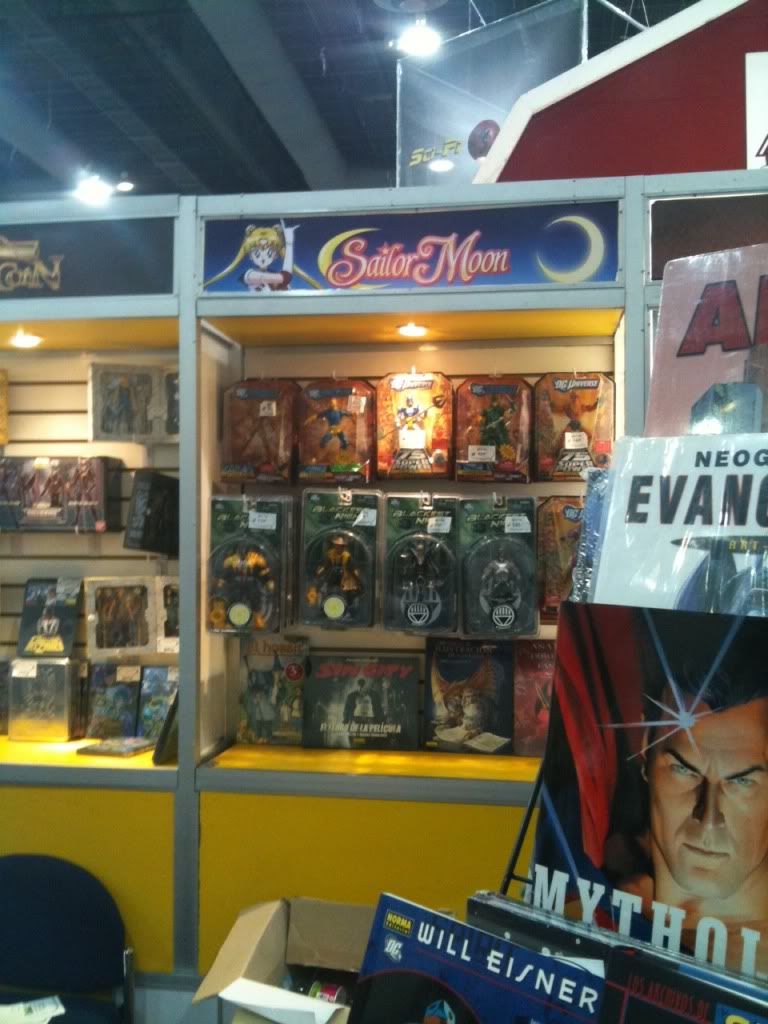 Very impressive to see our sailor-suited heroine standing in the highest priced spot of the convention. Obviously the company is well aware of the importance and draw the series still has. There was nothing actually on sale yet, of course, they were mostly offering Saint Seiya and other anime titles, but banners and flyers all over the stand made me excited nonetheless. I came close to ask for more info and was lucky enough to find the expositor quite talkative and eager to share info! I took the liberty to record our little chat, but since it was in Spanish, I will translate it for you!! :D!
Cycyn: "Hi! Do you know when the Sailor Moon DVDs will be out?"
Expositor: "Sometime mid-August or September"
Cycyn: "Cool! Any idea what format they will have?"
Expositor: "Yes! They will have an aluminum case, like our Saint Seiya ones..." *shows me the Saint Seiya box set that kinda looked like this:
*
C: "Oh! ok!"
E: It will include a "Sound booth" feature with recorded Sailor Moon phrases. There will be 3-4 Cds per box with 23 episodes each. They're still in the process of recording "Next episode" previews, from episode 2 to 46, I think... they're dubbing them and will be part of the extras. Originally, we didn't have dubbed previews for the next episode so they're recording those--
C: Original cast and all!?
E: Yes.
C: REALLY?! How exciting!
E: Actually the recorded phrases will be recorded by--
C: Paty Acevedo! (Usagi's VA)
E: Yes.
C: That's great, because they haven't worked on any of this...
E: Yes. And these sets are DELUXE editions, just like this (Saint Seiya) box. Also, the artwork will be these images. *points to artwork on stand*
C: Right! I know that in Italy they've been selling the DVDs with this line and logo and images, so the branding in Italy is like an international theme?
E: Yeah, well, they (Toei) are the ones who set the parameters. Once the rights are bought, they tell us "these are the images and logo to be used", they (Italians) have to follow the guidelines, they can make new designs but they have to be approved, and all these have been authorized already. This is how they'll be published.
C: But right now, it's only the DVDs right? No manga (in Spanish) or toys or figures right? Only the DVDs?
E: Figures, I think so, but in about two or three months, more or less. We'll keep you informed on that. The figures will be imported by DAM, the same company who brings these Saint Seiya figures. *points to figures in displays*, but we will be the retailers.
C: Oh so, everything will be in this same company!
E: Exactly.
C: Oh perfect! So I can get more info on your website, right? You'll keep us up to date on the web?
E: That's right, I will give you an email so you can talk to the guy in charge of design and all that, he can give you more info... *hands Cycyn a super secret e-mail address (WOoot!)*
C: OMIGOD Thank you!!! xD!
HAHAhahaha! So, there you have it Moonies!! News on the Latin American DVDS!
"So why do I care about the stupid Latin American DVDs? WHO CARES!" , you might ask.
Well, for one. I CARE. HAHAhaha!! Seriously though, I believe it's a closer look to what might happen if the American version gets DVDs as well. From what it seems, Toei is really sticking to the original cast in most countries, so it might be the same way in the English Dub. AAAANNNDDDD, figures were licensed alongside the DVDs, maybe the US will strike a dual-deal as well and there will be American figures. Who knows!!
There are some more questions up in the air, like: What the hell do "Talk Box Moon" and "Talk Box Mercury" (from the pictures above) mean?? Will the figures only be imported, aka already existing figures, or will new ones be fabricated? (unlikely). Will the movies and extra episodes also be included? Any extra behind-the-scenes material? Cost? Where will they be sold?
Worry not Moonies! I will talk to this *super secret guy* and get as much info as I can!! Stay Mooned!! (See what I did there? Tuned---Mooned... ok nevermind.)
-----------------------------------------------------------------------------------------------------
Hola amigos
Lunáticos
!! hehe!
AAAghhh!! Estoy taaaan emocionada sobre una noticias que me dieron. Por el momento, estoy de vacaciones en la ciudad visitando a unos familiares y tuve la oportunidad de ir a una exposición de cómics. Logré obtener información detallada sobre los DVDs internacionales de Sailor Moon, específicamente, la versión de América Latina! Moría de ganas por volver a mi computadora para compartir esta información! :D
Del 17 al 19 de Junio, la
Expo Comic Mx
tuvo lugar en la Ciudad de México, en el Hipodromo de las Americas. Antes de asistir al evento, investigué a través del sitio web a ver si iba a haber algún tipo de anuncio o un panel especial de
Towers Entertainment
, la compañía que adquirió los derechos para los DVDs de Sailor Moon. No había ningún panel o evento relacionado, pero decidí a ir a la convención de todas maneras.
Justo a la entrada, el primer stand que salta a la vista era el de Towers Entertainment/Capital 8, con una enorme imagen de SM como de 2.5 metros de altura! Créame, fue algo fenomenal! Gritar, saltar y chillar son reacciones esperadas en Cycyn. Hubo mucho de eso. xD!
Fue muy impresionante ver a nuestra heroína en la sección de más alto costo de la convención. Queda claro que la empresa esta muy consciente de la importancia y la atracción que la serie aún tiene entre los fans. No había nada de Sailor Moon todavía a la venta. En su mayoría ofrecían Saint Seiya y otros títulos de anime, pero las pancartas y volantes en todo el stand anunciaban la llegada de Serena. Me aproximé al Mostrador para pedir más información y de suerte, el expositor era muy abierto, platicador y con muchas ganas de compartir información! Me tomé la libertad de grabar nuestra pequeña charla, pero la voy a transcribir aqui:
Cycyn:
"Hola! ¿Sabes cuándo salen a la venta los DVDs Sailor Moon?"
Expositor
: "A mediados de Agosto o Septiembre"
Cycyn:
"Genial! Alguna idea de qué formato tendrán?"
Expositor:
"¡Sí! Vienen en una "lata", igual que nuestros DVDs de Saint Seiya" *me muestra el set de DVDs de Saint Seiya, la caja se parecía a esta:
*
C:
"¡Ah!¡Bien!"
E:
Va a traer un "modulo de sonido", donde trae grabada frases Sailor Moon. Vienen de 3 a 4 discos con 23 capitulos. Estan doblando los avances, desde el 2 a 46, parece ser ... los estan doblando y serán parte de los extras. Los avances no estan doblados, entonces lo que estan haciendo es doblarlos para--
C:
¿Con el cast original y todo?
E:
Sí.
C:
¿En serio? ¡Qué emocion!
E:
De hecho, la frase que trae, la va a grabar--
C:
Paty Acevedo! (la voz de Serena)
E:
Si.
C:
Maravilloso, porque no han trabajado en nada de esto ...
E:
Sí. Y este conjunto son ediciones de lujo, al igual que este set (Saint Seiya). Además, el arte serán estas imágenes. *Señala imagenes del stand*
C:
¡Si! Bueno, sé que en Italia han sido la venta de los DVDs con ésta línea y el logo y las imágenes, entonces, ¿Todas lo que se está usando en Italia es como una imagen internacional?
E:
Sí, bueno, ellos (Toei) son los que establecen los parámetros. Una vez que los derechos se compran, nos dicen "éstas son las imágenes y el logotipo que se utilizará", ellos (los italianos) tienen que seguir esos parámetros. Lo que pueden hacer darle un nuevo diseño. Si lo autorizan, es como sale, y todos estos ya los autorizaron. Así es como van a ser publicados.
C:
Pero nada mas son los DVDs, ¿verdad? ¿No va a salir el manga (en español) o los juguetes o figuras? ¿Sólo los DVDs?
E:
Figuras, creo que sí, pero en unos dos o tres meses, más o menos. Les mantendremos informados sobre eso. Las figuras, parece ser, que las traerá DAM, los que estan trayendo las figuras de los Caballeros, pero nosotros también las vamos a vender.
C:
Ah! Todo va a estar en esta misma empresa!
E:
Así es.
C:
Oh, perfecto! Puedo obtener más información en su sitio web, ¿verdad? Ustedes nos mantendrán al día?
E
: Si. Te voy a dar un número para que puedas hablar con el encargado del diseño y todo eso, te puede dar más información ... *Me pasa un número súper secreto (WUJU!)*
C
: Ahh!!!! Gracias! xD!
Hehehe!! Ahí lo tienen Sailor Lunáticos! Noticias de los DVDs de América Latina!
Hay más preguntas volando, como: ¿Qué demonios significa eso de "Talk box Moon" y "Talk box Mercury" (en las imágenes de arriba)?, ¿Las figuras que menciona, sólo se van a importar, osea, figuras ya existentes? O fabricarán unas nuevas? (Poco probable). ¿Los DVDs incluirán las películas y episodios extra?,¿Algún material extra como
detrás de las escenas
¿El costo? ¿Dónde se venden?
Voy a hablar con esta persona *super secreta* y obtener tanta información como pueda!
Estén pendientes para mas info! :D!!