Happy May LUNAtics!! Today's post made me LAWL, but in a "OMG COOOOOL" way.
*Insert LOUD Infomercial voice here*
-
So we all want to cosplay as Sailor Moon, right?!
-Audience: "YEAH!"
-
But the cost of producing a full attire is soooo out of range you feel like you just want to dump the whole idea. Not only do you need to think about the fabrics, the patterns, the threads, the stitches, the fit, but also, ALL the tiny details that are part of an integral costume, like the bows, the chokers, and various RP toys to complete the look. You know what I mean? Who has the time or the money?!
-Audience: "BOO!"
-
I know, it's expensive. Or maybe you just don't want to invest that kind of money into a one-time-only outfit. Ya' wear it and then it goes to the back of closet, and all that money, right down the draaaaain!!
*Pours pennies down the drain*
-Audience: *Exaggerated generalized SIGH*
-
I don't know about you guys, but I would love to dress up for cheap and STILL look fab!
-Audience: WOOOO!!! *clapclapclap*
-
Maybe you just want to be different and stand out from the rest!
-Audience: WOOOOOOOOOOOOOO!!!!!!!!!!!!!!! *cheer*
- Well Moonies and Gentle-Moonies (?), What if I told you all this is possible? ! IT IS POSSIBLE!! With just a fraction of the cost of a traditional cosplay! I give you: Balloon Sailor Moon!
-Audience: *GOES WILD!*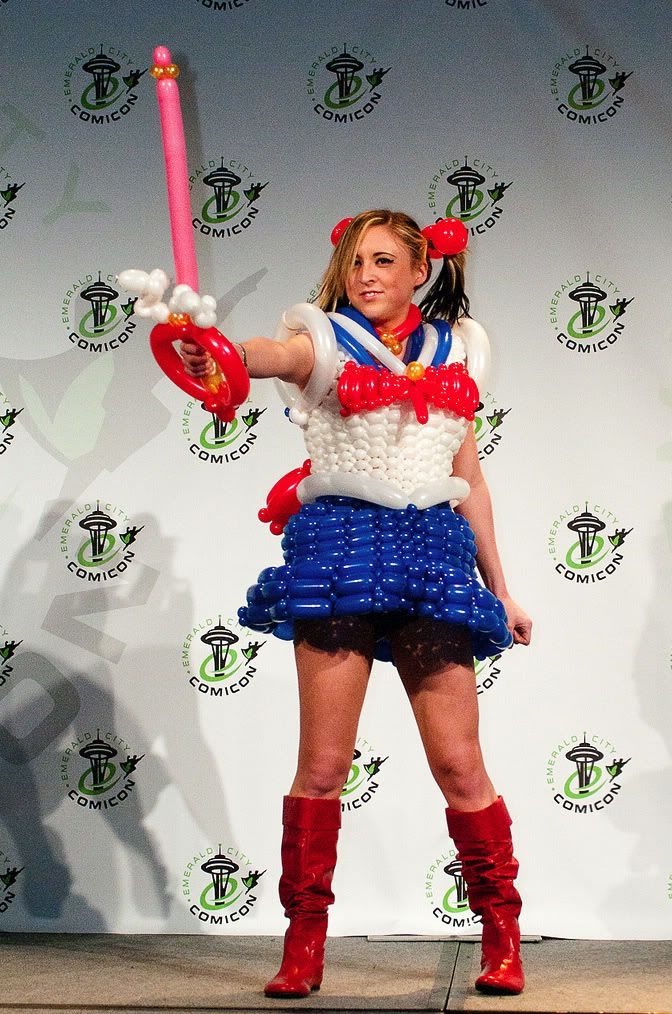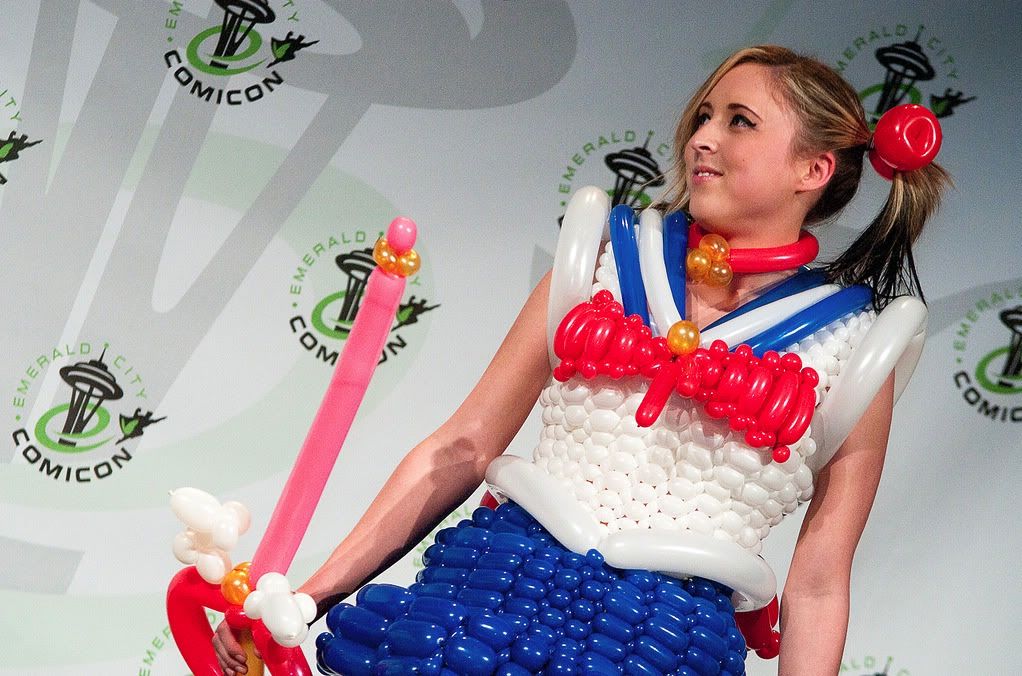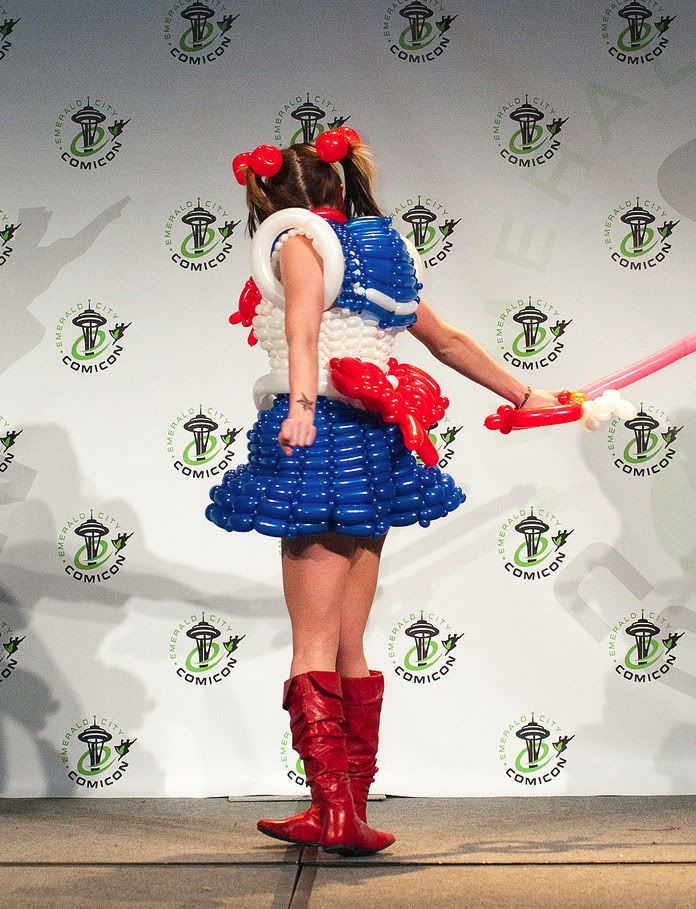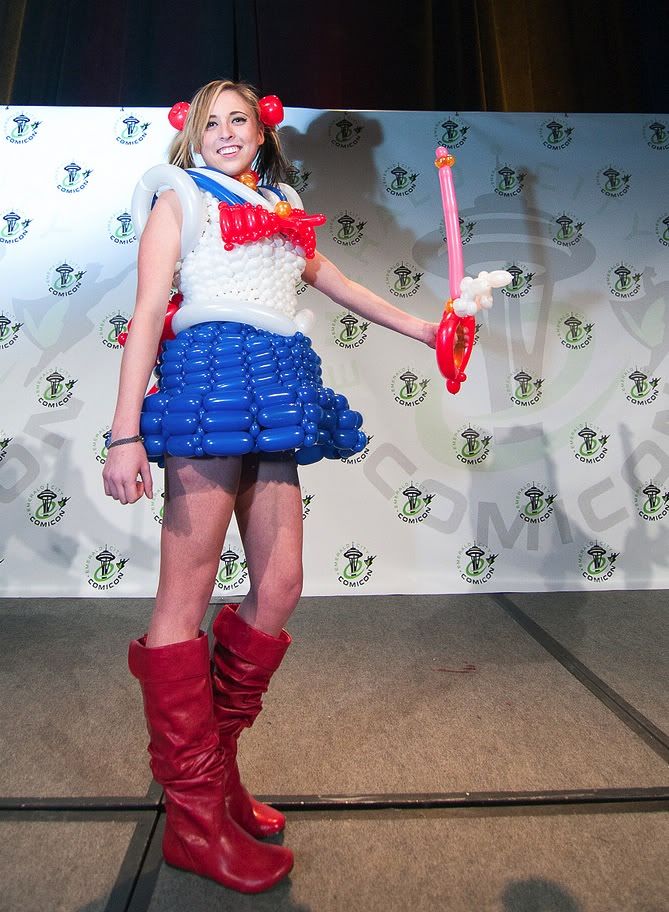 Before you LAWL, take a good look at the way those balloons are knitted. THAT IS SERIOUS BALLOON-TWISTMANSHIP right there. It takes A LOT of dedication to complete a piece like this. I tried to sit through ONE 5-minute instructional balloon-twisting video and couldn't make it through the first five minutes *sensitive ears*, so yeah, I'm impressed.
And why didn't I think of that balloon Moon Kaleidoscope before?! AWESOMENESSSSS!!! I am TOTALLY DIGGIN' this cosplay Moonies! Do you guys like it or do you think it's just silly?
Pictures taken during the Emerald City Comic-Con Masquerade 2011. If you know the cosplayer, plz drop me a note, I have tons of questions for her!!! :D!!
I do not own any of these pics. Found on
Lyunardo's Flickr Stream
.