Hey Moonsters!
First some SMObss related news. Over the weekend, the blog reached 100 000 hits and 100 followers. Not a big deal, but I was happy nonetheless. It means I'm not alone in my obsessiveness and after these *almost* four years, I have come to know and love many of you, and love is a good thing... right? Sailor Moon does fights LOVE it after all. xDDD!!
Also, in other blog-related news, Brad from
Moonkitty.net
and I have created a pretty fun relationship. We've always messaged back and forth before, but the more I followed his tweets and FB statuses, the more I liked him, our views on Moonies stuff as well as *real world* issues seemed to coincide a lot. So we have become really close . Or so I'd like to think. Point being, he happened to have a domain name laying around in his apartment and so he so was generous and amazing and give it to the SMObss!!
So now we have a more awesomererer site url:
www.sailormoon-obsession.com
it's so purtyyy!!
Many thanks to Bradie and also all you incredible Moonies who time after time, bear with all my nonesense. All 100 000 of you. Here, have some "Pink Sugar Heart Attack" ♡♡♡♡♡♡!!
Now, back to your regularly scheduled Moonie post:
===============================================
Well, this was an unusual find. After making that post about the new Italian game "La Luna Splende" a few weeks ago, I decided to make quick investigation of other Sailor Moon games out there. Sure enough, I found a bunch!! Sailor Moon really went all-out in its heyday! Makes me smile that we are part of it all. Apparently the fan favorite is
Another Story
:O!!
There are all kinds of SM games, but I didn't look into them much, until I stumbled upon
Seera Muun to Hajimete no Eigo
!!! (First time English with Sailor Moon). O...kay... All together now:
AWKWAAARRRDDDDDddddd.......
Teaching us English Sailor Moon? Really? REEAALLLYYY??? I mean, "
Reinboo Muun Haato Eikku
", "
Muun Gojyasu Mediteeshon
", and "
Sutaaraitto Haneimuun Serapii Kisu
" don't exactly count as ENGLISH. HAhahahaa! xD!
We all know Usagi was never the greatest bilingual character, in fact, she repeatedly lets us know she can't speak English at all, she leaves it to Mamoru or Amy, so you'd think that in this game/learning program she'd try to learn some English, right?
Well, no. She'll leave that up to the user. XD!!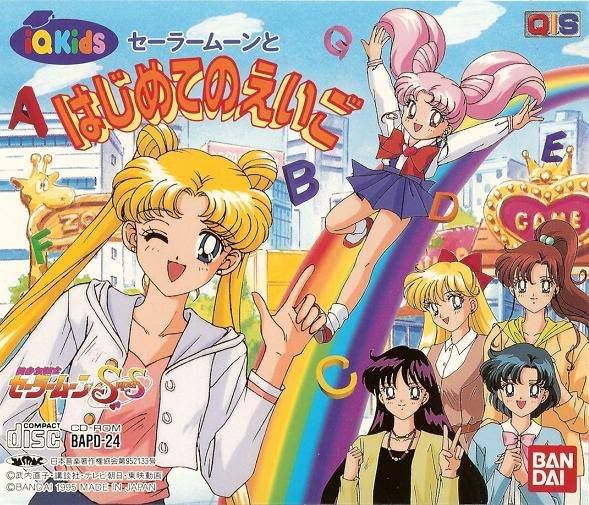 What caught my attention here was that anime and voice overs were created for this, like, ACTUAL anime, not moving pixels. I never saw any of these videos before, so seeing "new" animated stuff (not new, just recently discovered by me) is pretty exciting! The game takes us on day adventures with the girls, for example, Usagi in her room, where you can choose her clothes according to the season and learn "coat" "shirt" and "skirt", or you can also stop by Makoto's apartment where she teaches us the English words for food and kitchen utensils. The original cast does all the voice-overs, in Japanese though, however, none of them actually try to speak English even though they should. The videos ARE kinda TEDIOUS, but I still sat through them 'cause they're adorable.
If you DON'T want to watch them all, I HIGHLY RECOMMEND you watch at least the LAST one. They have an "alternate" transformation sequence. It's not as elaborated as the TV version, but hey, I take what I can get.
MUST WATCH.
Anyway, just a fun little find. ChibiUsa, for once, is actually pretty cute. D'Awwww!!! :3
Did you guys know about this game? Which one is YOUR fave SM game?