Ooooh! Long-time, no-SM Cola post! If you're not familiar with these kind of posts, they're basically for things that are kind of
WTF-ish
, fun, random or not really related to Sailor Moon, although, in today's post, it totally is related.
A few years ago, I was (as usual) browsing through Ebay, looking around the cheap area and found a large lot of "gently used" Sailor Moon goodies. The whole thing was like 10-15 dollars (can't really remember since it was like four years ago), so I thought it was worth it. The description specified what kind of objects I would get: A few sticker sheets, cards, letter head sheets, envelopes, a watch, keychains, a small note pad a coloring book, and other loose things. Seemed like a fair deal so I bought it.
When I opened the box, I was kind of saddened –and a little pissed– to discover some of these things were actually UNUSABLE. The watch was beyond repair, some cards were wrinkled and ripped, the envelopes were actually just empty containers for bamboo wall scrolls or collectible cards, the sheets of paper were wrinkled, the note pad had most sheets torn off, coloring book was scribbled and so on. Srsly, I thought this was some kind of joke, like someone said: "OH LOOK! I can totally get money from this trash I was going to throw away! The idiot will even pay for me to send it over! MWAHAHA!!". Alas! Cycyn was the idiot who ended up buying the trash.
Translation: Empty envelopes, torn sheets
So what do I do? Put it in a box and never lay eyes upon it again.
....
Four years later, said box is opened.
Alright, so maybe I was a little pissed and didn't take much time to see what *good* things I had gotten. I did recieve a few keychains, some ADORABLE German dress-up sticker sets (I will talk about them later), a few loose cards in good condition, and I guess the watch might be repairable, so it wasn't as bad as I originally thought. But what made me TOTALLY smile and crack up are some cutouts that I have no idea where they came from. I'm guessing they were part of some kind of wrapping paper or from an illustration book. Who knows, but this is how they look like in the back.
But see, they're totally awesome! And by awesome, I mean FUNNY!! HAHAHAHAHahaha. XDDD!
Okay so, they're Neo-Queen Serenity. I'm deducing this 'cause of the length of Usagi's hair and the Moon emblem on her forehead, plus, the very first one is a given. Except for that scarf/pashmina thing around her neck (nice, elegant touch by the way) everything seems normal.
But then we have these deviations from canon that are... well, interesting. I mean, I can totally see Neo-Queen Serenity wearing these dresses. The first one, a sparkly golden gown with long delicate gloves, and semi transparent shawl, the moon pin holding it shut is nice and refined. The second one gets a bit weird. The chest bow as a Senshi reference, the skirt is kinda tacky, but then the purse.... wait, is that a purse at all? A top? A pillow? A giant candy? What is that? It's PRINTED on there, so it's not a removable object. This was clearly part of the design... so WHAT IS THAT? Did she pull this off someone else's dress? D:
But then we get to the funniest/weirdest piece of them all: Wait for it...WAAAAIT FOOOR IT:
HIPPIE NEO-QUEEN SERENITY!!
HAHAhaha!! She TOOOOOTALLY stands for LOVE and PEACE, DuuUUuude.
Here they are all together so you can compare them side my side.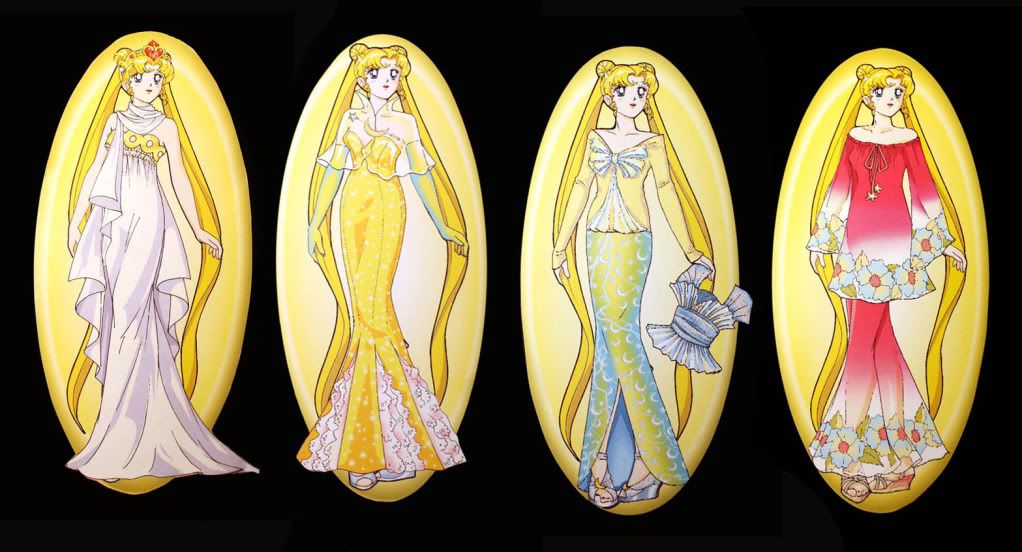 Anyway, a fun discovery. Where do you guys think these are from? Any ideas? and what about the purse/shirt/candy thing? Any guesses as to what it might be? Speculate away!