Time for another super awesome "Sailor Moon Room of Doom!" It says volume 8 but I think this is barely the fourth room we've seen. HAha! These posts are really enjoyable for me, it's awesome to look at other Moonies' collections, to compare with what we have, seeing if they have any rare items, or any custom made dolls, and sometimes just to learn a bit how they organize their stuff or simply to admire the texture and colors that SM products produce. *0*!!
I normally look for and post about rooms with
Sailor Moon toys ONLY
,
however
, this room all mixed up with several different anime articles, has managed to achieve an exact balance with SM plushies and posters. Some of us like dolls, some like RP toys, some enjoy figures, but
Julie
(aka Chibichibiusa) is all about teh plushies, and they're AWESOME!! I don't think she's missing a single one (well, maybe the Irwin ones but apparently she only collects Japanese stuff). She also has some gashapon and magnets around. Also, I love dollfies, but that hobby is just way too expensive, so I'm pretty impressed at the quantity of dolls in this room, although in these specific pics you can hardly see them.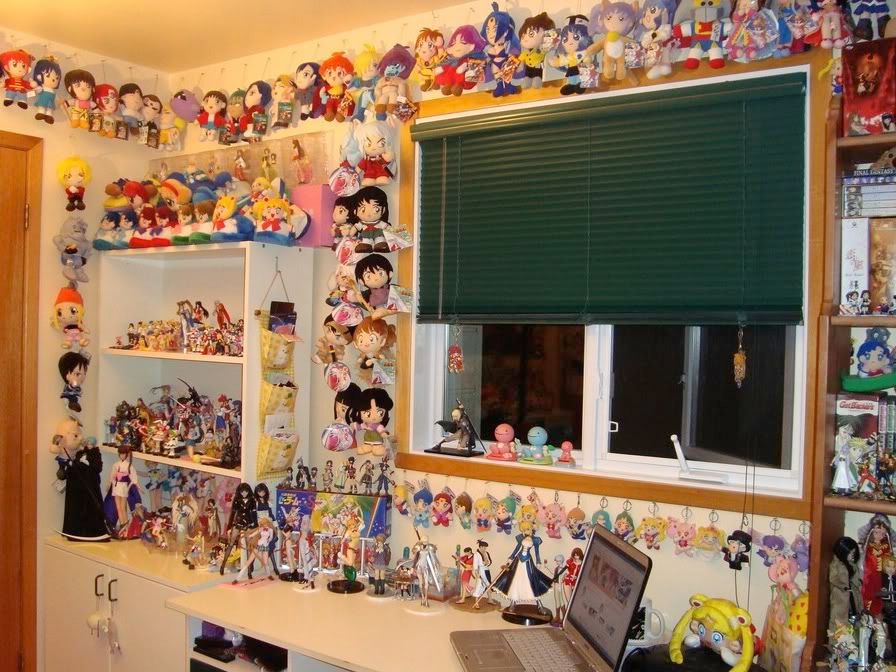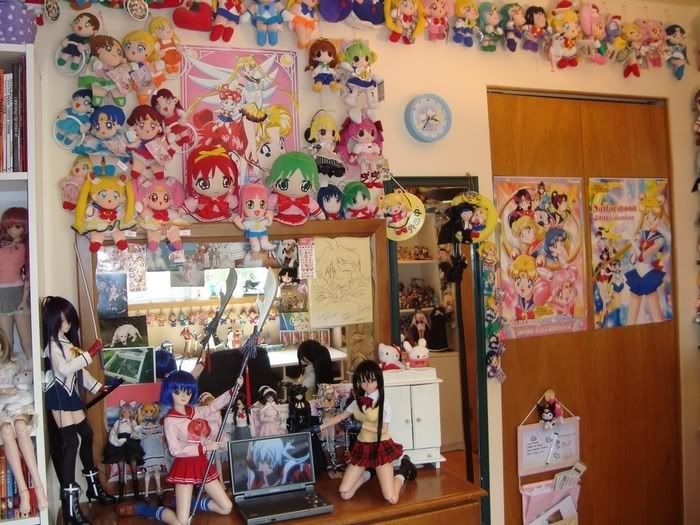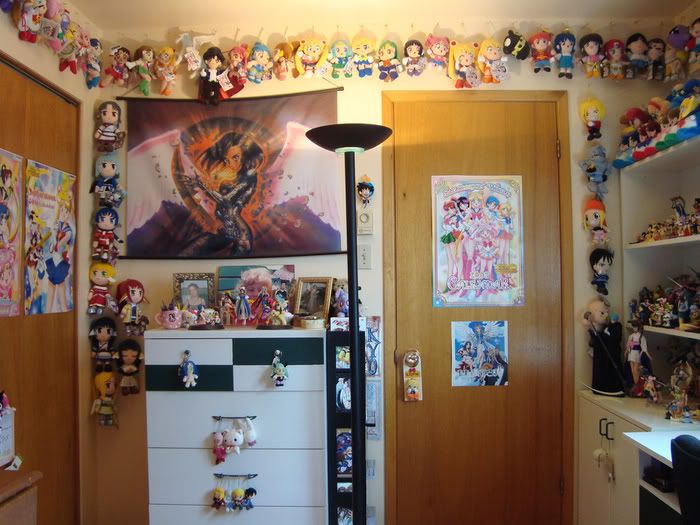 Aggghhh!! She even has the whole the keychain plushie set!! And the bendy plushie dolls! (You have to head over to the
original post
to find them). I kind of like seeing ChibiChibiUsa's collection, looking at so many of them together gives it like a cushiony, warm, inviting feeling doesn't it? It makes me happy, I'm not even envious of her. Happy place! XD! Unless you're this, like, grinch type person who hates colors, cuteness and sparkles in which case I might add: "WTF are you doing here, anyway?"
Pictures are from
Figure.fm
. Their original post and more pictures of Julie's room can be found
HERE
.
If you're interested in her dollfie collection, you can find more pictures on
her Flickr account
. I encourage you to look at her gallery, they're all adorable, and she even has a totally
awesome Sailor Saturn dollfie
that made my jaw drop to the floor. This doll is obviously larger than any Barbie sized one, so her Sailor fuku had to be custom made and the results are very interesting. Just take a look at the glove, it is breathtaking.
AAARRHHHEWFPWRJ3oi2rjewirj39rje7lklyqkelopda *dead*