*Phone Ring* Prrrrrrr..... Prrrrrrr..... Prrrrrrr.....
-Hello?
-O hai Gundam, it's Cycyn.
-O hai Cycyn. Whatup?
-Not much, I was browsing through the
-Oh! That's awesome! You like?
-Meh, I think a mechabot can only take so many
extra adornments 'till it starts looking girly.
-WHAT?! GIRLY?! GUNDAM IS THE
MANLIEST man thing since the invention of
men. It can totally own Chuck Norris, Snake
and the Predator while banging Megan Fox.
Old Spice Guy is a sissy next to Gundam.
-So what are you saying? That THIS is NOT
so over the top additions that looks kinda like a
perfectly adorable angelic figure?
-.................
- Srsly, I would totally give it to my auntie Emma
who collects Angelic Christmas tree toppers.
-.... it's 3 a.m. Cycyn, What do you want?
-Well, it's about your Nobell Gundam design.
-What about it?
-It's kinda Moonie. Plus, since when does a robot NEED
to have a skirt and bow, and OMG, HAIR? It's like,
why would a car need to have extra handles or steel wings
just to show a girl drives it? Maybe the occasional pink
stirring wheel cover, or Hello Kitty stickers on the rear
bumper, y'know...................hello?.... HELLO?!
We are pretty aware that SM is *not* the only Japanese anime that features uniformed girls. School uniforms are part of their everyday life, it's only normal that it reflects onto their series and dramas (although if you ask me, using uniform wasn't something that marked me so much that I would center all my heroines around it). The whole premise of the series is a group of schoolgirls fighting evil in a sexier version of their school uniforms and being totally AWESOME while doing so. Over and over we see the theme repeated. It has even spread into the western pop-culture! (Gogo Yubari anyone?)
Now I'm not saying SM influenced this, it's just part of their culture. Having said all the previous, Gundam can't just pull one of these and NOT expect us to consider it Moonie or in this case, Sailor V-y... I mean, c'mon! They're not just similar, I really believe they're trying to be evocative.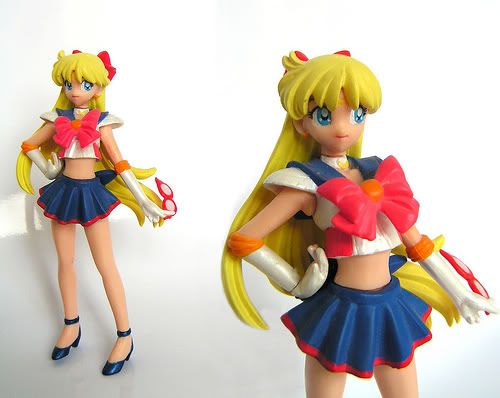 So this brings me to the following conclusion: Gundam is girly. XD
Sailor Venus Images from
Sailor Moon Snipits
, and
Letilor
Gundam images are from
guNjap
in
THIS
post.