It's been a few years since I stopped buying stuff on Ebay, just yesterday, while chatting with Sakky, we discovered I have no idea of how much things cost anymore. oO!! Every new find now is pretty much an "I Saw it and didn't But it" entry. HAHa!
My collection consists mostly of Sailor Moon Dolls (ONLY Usagi), occasionally other Senshi ones too, but I pretty much already have most of the dolls I want. Rare stuff and hard to find collectibles are interesting, and I'm particularly obsessed with the
Rainbow Moon Heart Attack Figure
which is at the top of my "Most Wanted" list. Since it almost never appears on Ebay, I have taken my browsing to Y! Japan. Wow. There are things on that site I never knew they existed!! SO-MUCH-FUN! :D! So today's post is about this SM camera! SOOO adorable!! Pink! The cats in chibi are so cute! It is 100% official as you can see by the box design and the Toei Sticker!!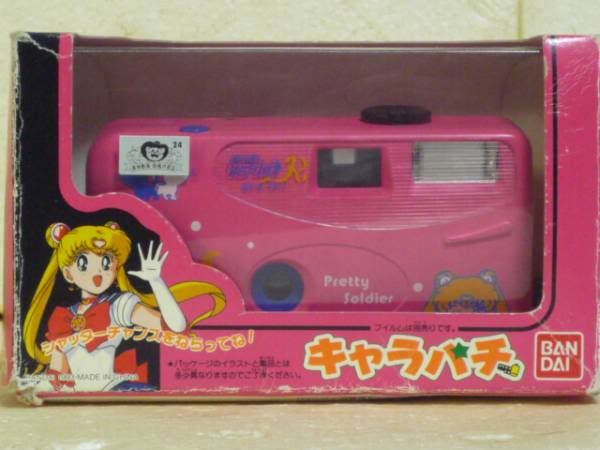 I still don't buy much, but finding these is like discovering a hidden treasure!! I don't think I could use this one, it's just too purty to risk it falling or getting wet. HAha! Was about 50~80 dlls... I think.