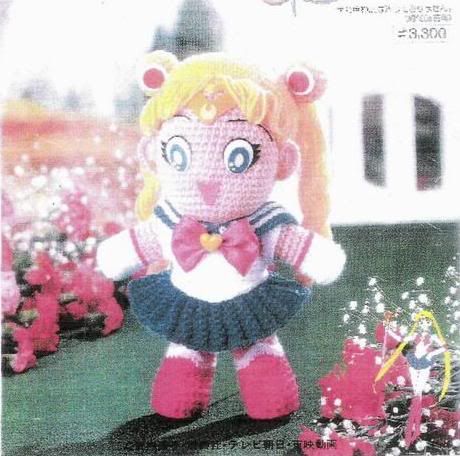 Hi Moonies! Posts have slowed down a bit, but fear not! There is plenty of stuff I still want to blog about. For instance these crocheted dolls. I talked about them during the
Live Chat
I held three months ago, and somebody (I think it was SailorMusic) even corrected my ugly pronunciation of the word "crochet" (|krōˈsh ā|) Haha!
I mentioned that I had found my crocheted dolls on Ebay and always thought they were entirely designed by fans, but the other day I stumbled upon the actual patterns to produce them! The official Japanese ones! (Toei sticker on them and all) ... Image quality is terrible though, sorry about that. I'm posting them if you're curious and for any expert out there who can actually figure them out.
Do these dolls fall into the fanart category? If they were produced using specific guidelines it wasn't really entirely produced from scratch by a fan, right? I guess it's the same paradox applies to fans filling in the colors of a coloring book. I'm not diminishing any work produced by fan, just wondering y'know.
Anyway, WANT MORE!!! XD!