Normally for little posts like this one, I usually just link on twitter, or include it at the bottom of a post, but I kind of though it was TOO CUTE to let it go so low profile! Futhermore, there are a few things I'd like to point out:
These are pictures from
Kris' blog
about her adventures teaching English to children at a school in Korea, at this point, she is describing the graduation of her kids who apparently made a Sailor Moon play but...
*Number one: How does Kris know about Sailor Moon? Maybe she kind of remembers the show from back then but that brings me to...
*Number Two: How do these
children
know about Sailor Moon? Aren't they too small to have watched it on TV? Or were the rights in Asia cancelled later on? Or is it STILL on TV in Korea?
*Number Three: They are making the Moon pose! Why are they familiar with it?!
*Number Four: Where did they ALL get these costumes?! They appear to have been made by the same person/company.
*Number Five: I'm sure the parents were in on this too because they sent their kids to school like this, so... how'd they get the parents involved!?
*Number Six: How AWESOME is it that EVEN THE BOYS are dressed up!?(rhetorical question, needs no answer, it's just AWESOME!)
*Number Seven: Kris mentions they were dressed up because it was their graduation... It's still kind of confusing though, what's the thinking behind this concept? -"Oh, let's dress up as Sailor Moon for our graduation play!"...... oO!?
Still adorable!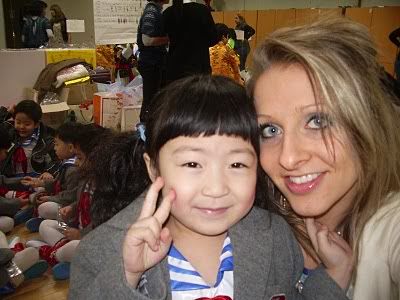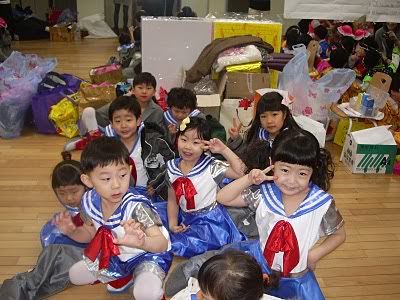 Ohhh and *Number Eight: Where can I get one of those boys dressed up and making a RAWR position!? I WANT ONE!! So cute X3!!!! Kris' blog entry is
HERE
.