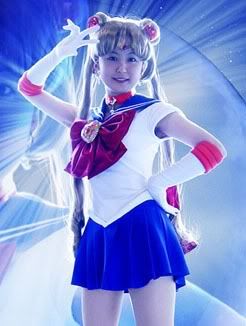 I finally had a chance to look through my files in my old computer and went through my old bookmarks only to find most of my cosplay urls completely obsolete! Aaaww noes!!
But here is an AWESOME rescued one!!
Dream Moon
is Japanese Cosplay group that have been apparently inactive for the last 4 years, but these wallpers are SO AWESOME! They truly look like the PGSM artwork and they are very skillfully crafted, every step from the costume production, photography and photoshop post-production.
Their site asks not to repost these, and I normally make sure to link back or ask for permission, but this time, I don't think I'll ever get an answer, so I'll post lo-res versions of their images, but I strongly suggest you go over to
Dream Moon
and take a look at these in his-res. Granted they aren't active anymore, so there aren't that many pics, but diminish NOT the hard work that is put into their shots. Coolness! :O!!
Gah! I love these.