Well today's blog entry is a bit weird. You see, I was looking at some ganguro videos on YT and thought to myself: "I wonder why all these girl are making SM positions?" So I started looking for Moonie-Ganguro stuff. If you aren't familiar with the ganguro style, you can see fotos
HERE
. Anyway I found this drawing on Deviantart:
I even found a Moonie-Ganguro vid by Lori aka Usagi Kou


And in my searchings I came across this image in a blog: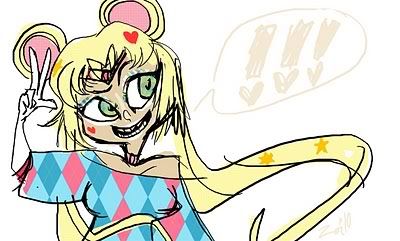 A ganguro SM. But that's beside the point. I found a blog which is absolutely exciting!! I found SAILORMMM!!! And let me tell you Moonies, it is an AWESOME Blog!!

It's managed by a group of very talented Moonie fan artists all united in one single blog where they post their incredible works!!! I was going to keep looking for ganguro stuff just to make a post, but I think this entry has served a greater purpose: That the SMObss readers visit SAILORMMM!!!!I'm A FAAAAAN!!!! :D!!!!!


Maybe I should leave the SMObss and join them?!!

LAWL!