You know, I hardly log on to Ebay anymore, it's a little bit depressing to always find the same bootleg Boxsets, the overpriced Irwin dolls and all kinds of wigs... There are hardly any SUPER AWESOME items... and then the one time I DO log on, I see these Baby items and... SOOO CUUUTTTEEEEEEE!!!!!.... about to buy and..... TIME LEFT: 22 secs... DAMN YOU "
ENDING SOONEST
" FEATURE!!!!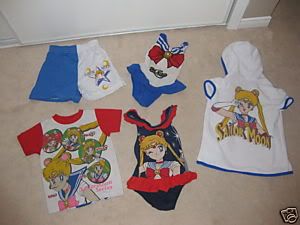 I don't have babies yet but I got a bunch of nieces, I'd love to see them wear Moonie stuff ........ T.T
Ah well, next time...
PS. Isn't the white bathing suit with the bow and skirt the cutest of them all??
WAAANNNNTTTTTT!!!!! Dx