Wow, and not in a good way.
After a couple of months, I decided to check my @sailormoon.com mail, and what do I find?? A completely abandoned page that led me to another page where I had to scroll down a list to find the domain name.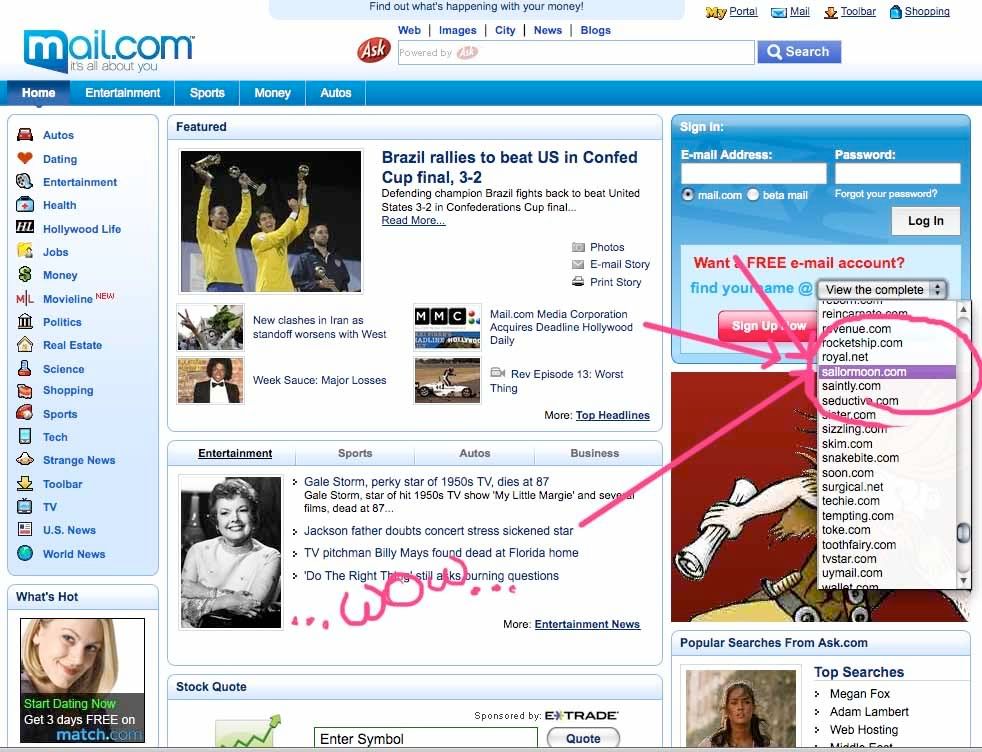 I mean, how sad that it has come to this. A name down a list. And they freaking own the
.com
!!!!
SAILORMOON.COM
!!!!!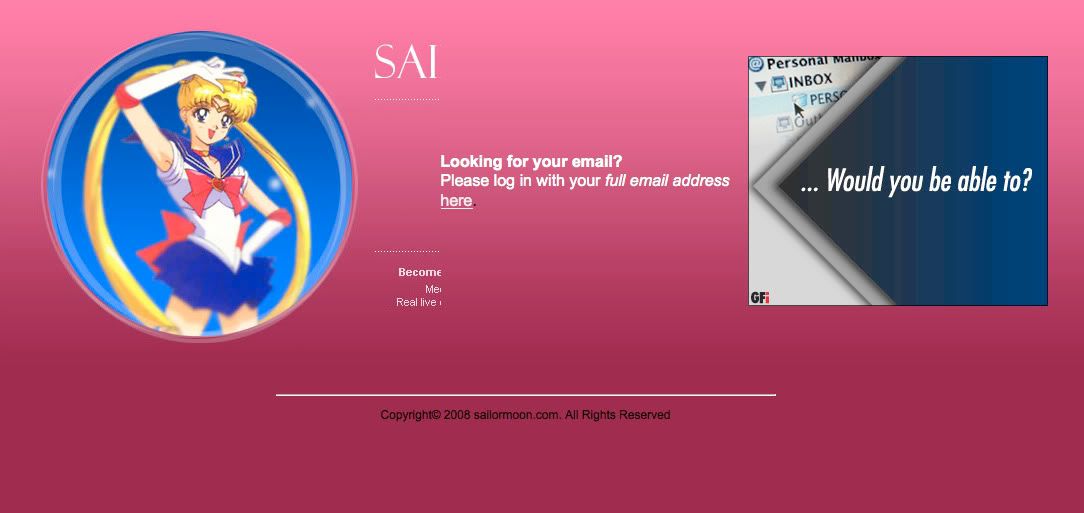 Ohhh, for the love of all that's Moonie!! They don't even have a FULL NAME displayed on the page!! It's just so......
HUMILIATING!!
Sadly, this is a sign of it's decreased popularity. U.U
I don't ever want to have to see this again. PLEASE MOONIES!! WE'VE GOT TO HELP
MOONCHASE
WITH THEIR CAMPAIGN!!!! We all want SM to come back into the public eye and our best shot is to convince Funimaton that we want it re-dubbed!
The guys over at
MoonChase
have put together
a very extensive and detailed list
of original participants and other viable VAs that could return to the possible English re-dub and they've included YouTube links that illustrate each actor's contribution to the series. I recommend that you
read the post
that also includes staff info that help bring the whole thing to life!. Our decisions and opinions in the survey must be well informed choices.
After you have read all the info, please proceed to:
PHASE ONE:
Filling out the Survey!!
Ok so that's done. Now what??
PHASE TWO: Letters from Moonspace!
I'll admit I have procrastinated on this part a bit. We have write a letter!! This letter is to let Funimation know why we want the series back.
MoonChase has listed a few recommendations
on how to make a well-structured letter that may grab their attention.
Once you have read the suggestions and written your letter you must join the
MoonChase Forum
. Login and follow
THIS LINK
in order to obtain the address to where it must be sent.
If this is all we need to do to bring SM back, well HELL, that was easy, painless and CHEAP! Hahaa!! It's not like we have to take a plane, rally outside the Funimation premises, hold up standards, banners and pitchforks, or camp-out in the middle of the street, or eat out of cans, or pee in the...... YOU GET THE IDEA! XDDDDD!!!!
GO! GO NOW! It's not for anybody's benefit, it's only for our beloved USAGIIIIIIIIIIiiiiiiiii!!!!11111one11 D:
....That was a bit dramatic. xD!!