This month's "I Saw it and didn't buy it on Ebay" entry is really short because I simply don't have that much info on this. They were selling a crystal that looks like the Silver Crystal in it's flower shape for cosplayers o collectors. There are plenty of these, I've seen them around a few times and even though I DO want one, it's nothing compared to
HOW MUCH
I want the other thing in the picture!!!!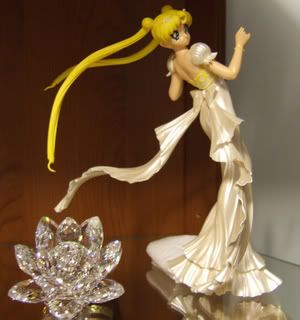 Presumably they put the Serenity figure next to the crystal so that we can have an idea of the size, but I'd like to venture a guess and say they put that figure there TO SHOW IT OFF so that we can feel awful for not having it. HAHAHAHAHhaha!! It's a truly an exquisitely rare figure. I've never come across it again. They mostly sell unpainted resin recasts of it on Ebay, but this one seems to be THE REAL THING.
Look at it T3T. All purty with pearly paint. So jealous. Dx
I think even
Charon
is missing this figure!!! How is that possible?! WTH.