Hello to all!!
In the constant search through the web for anything new that can be found: Images, pictures, fanart, cosplay...ANYTHING, there is ONE thing I constantly find over and over again:
SAILOR BUBBA!!!!!
At first I was ...... ummmmm..... I'm not sure what the right word is... maybe
OFFENDED
. Sailor Moon is SERIOUS business to me. I used to HATE for anyone to make fun of the show, and if anyone did , I got pretty upset and call them ignorant fools. But Bubba is SO DEDICATED to make fun of SM that it actually becomes FUNNY!!! XDDDDDD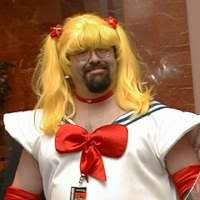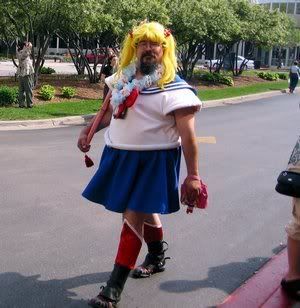 It's not clear whether he's a real fan or not, but who cares??? He makes everyone crack up!!!He knows it and he loves it.
We love you too Sailor Bubba!!!! XDDDDDD
You need your own Facebook or E-Harmony profile HAhAHahahaha!!!
OMG. He even has his own
Sailor Bubba figurine
!!!!!! AHAHAHHAhahahahaha!!!!