Well, we have a tie in the poll between Vlogs/Podcasts AND live Chats. So, what to do?? What to do??
Why not do all three?! :D
Ohh wow. That's a lot of ME talking and I have no idea what I'm going to blabber about. I'm in trouble. HAHAHahaa!!!
I need to thank you all for
NOT
choosing "Add a second blog writer" option. I'm not exactly sure of what that means but I like to imagine that you sweet Moonies are ok with the random mess that is Cycyn and her obsession. It's a relief not to have to share my blog. Really. It is. I'm too possessive and controlling. HA.
Anyway. I think I'll post the first the first video sometime next month. I want to make it a section, like the "I Saw it and didn't Buy it", "SM vs. Real Life", etc , and so, now the videos and the podcasts need a title but I can't think of a good name.
First I thought of
SailorMoon TV
.However, as an odd coincidence a girl named Maria from Italy contacted me on DevArt a few days ago and asked me if she could use my SM fanart for her
www.SAILORMOON.TV
website and I said yes, so I guess Sailormoon TV is out of the question now. Then I thought that it should be a fun, crazy and SMoon-inspired theme, so I thought of the *Dead Moon Circus*, maybe it should be called
The SM Circus
. Dunno. Need suggestions for the vlogs and podcast names!! Help me out! XD
On different note, I want to congratulate SailorDees and the rest of the Moon-chasers group because their blog,
Moon-Chase
reached 50 000 hits this weekend and it's a GREAT number!! We wish them the best and 3838765536257245000 more guests.
I was really lucky because they offered a banner for the lucky one who caught a screencap of their big number. And guess who got it??? x]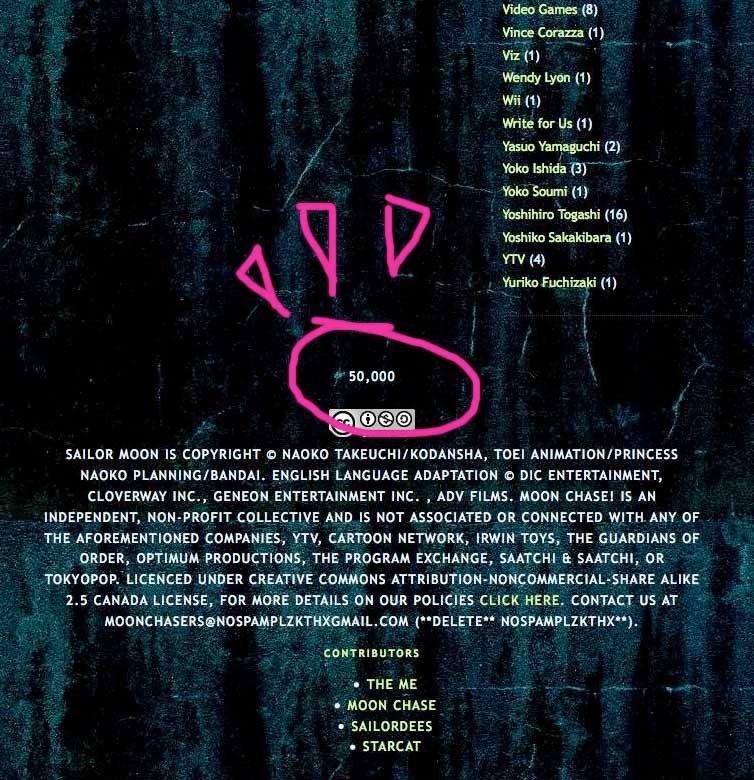 AAAaaanyway. Leave any suggestions for the vlog and podcast names in the comments!