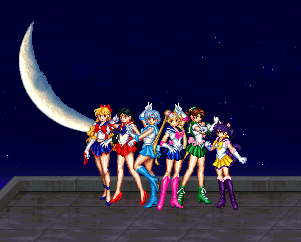 Have you guys seen this?!?! I barely read about it at the
SM Forum
a couple of days ago. A FANMADE PGSM WII GAME!!!!!!!! Everybody knows I LOVE dedicated Moonies and this is WAY BEYOND anything I have ever seen!!!!! Read all the details at
THIS
Forum. O_O!!!!
Wow.
Oh and on another note: Many Congratulations to the fabulous
Silver-Eyes-Blue
. You may remember her from
that Moon Kingdom drawing we made
as a collab a few months ago. She is also a devoted Moonie and
draws even more fanart
than I do!!!!! oO!!!!
The very talented Mateja just got married this last week and I hope she stays away from me because I'm so jealous of her right now that she has found LOVE that I may snap at her in a hair-pulling/dress-shredding way xDDDDDDDD.
J/k, We're glad she's found happiness. Awwwwwww.....
Congrats Mateja!! X3