More STUFF!!!!!!!!!!!
My god. I really Love all these rare objects. Why can't I be satisfied with what I already have?? Has anyone seen that show on the
Biography Channel
called
The Incurable Collector
??? They record different kinds of collections, and the eccentric people who invest their money in their hobbies and the lengths they are willing to go to get what they want. Collectors always say "The best article in my collection IS THE NEXT ONE I WILL BUY".
I feel like one of those eccentric people. But it makes me happy :3
Today's "I saw it and didn't buy it on Ebay" article issssssss.... SAILOR MOON TRUMP!!!!!!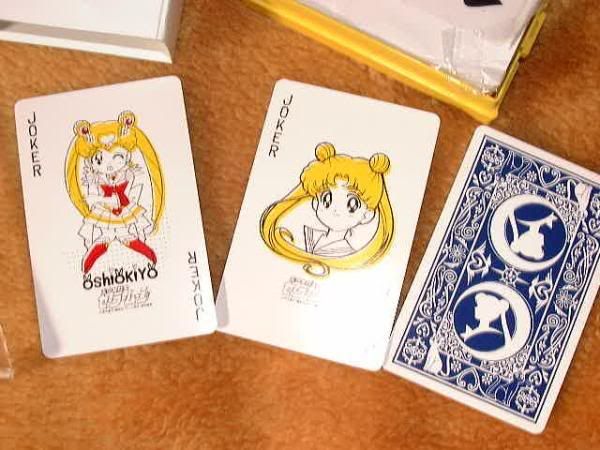 Wow. What I like about this deck is that it's not like the other decks I've seen around where they clearly just put a random image on the back of the cards and make them look cheap; these were
specifically designed
TO BE A CARD DECK and look like a normal pack but full of Moonie details. Look at them!!! Besides the shape of Usagi, there are brooches, Luna, Artemis and other fun designs!! Love it.
On a side note.
I didn't forget to mention that I bought something else at the convention, but I didn't want to say anything 'till I could provide you with a link, and now I can.
I was ripped off at the convention by a guy who downloaded this stuff from an online website and he didn't even bother to erase the "This model is for personal use only" message from it.
Ahh well, too late. I paid.
But here they are FOR YOU!!!!!!! The artist is called Masamune 'Mad Modeler' Washington and he has a
site
but it seems its not working for some reason.
Download, print, cut them out, build and take pictures of them for me. I'm too lazy to build my own xDDDDDD

Download models at:

http://zip.4chan.org/po/src/1215274487893.pdf
Have fun!!!
-----------------------------------------------------
*EDIT*
Many many many thankies to
Chibi
who provided us with an awesome link to another page with more easy to make SM crafts which I shall be soon printing out... IF I ever lift my butt off the chair and get some ink for my printer xD. Go to
http://www.kinmoku.net/tsukutte/
and have even MORE fun.
And also... is it just me or is the link for the Sailor Hakos not working?? Please let me know.