Hello to all Moonfreaks!!!
I have two little news I'd like to post today, just because I'm excited and I want to. HAH.
The
Sailor Moon Channel
page has had a small update. For those who visit it frequently you might notice the change quite easily. They have decided to make a new opening animation.
Hurray!!!!!
It's nothing fancy, no new images or anything but it's nice to see it's not completely abandoned. Also Naoko drew a very adorable little picture of Usagi in her school uniform. It so cuteeeeee!!! I love this digital-age Usagi <3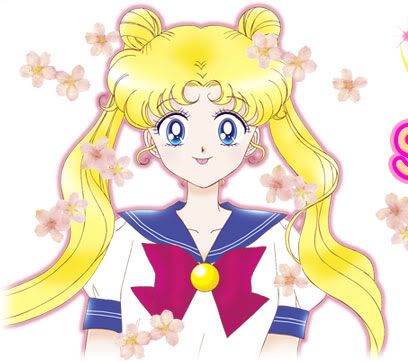 Ohhh how I wish they would make the page an exciting experience like the
Star Wars
homepage, you know, with videos, bios, a shop, upcoming events, future projects, sneak peaks, fan forums, blogs, wallpapers, galleries and I would even throw in there a special section that describes all the special edition toys, posters or cds (just so we know what's out there when we hunt down hard-to-find material). Dunno, I'm just so mind-blown by all the possibilities. George Lucas has done so much with his empire and there's MORE to come (an animated series it seems) and even though SM
did
get a second chance with the live action series, I don't think they handled it all that well.
I'm getting to a point so bear with me.
Last time I was in Japan they are so over it. It's old news and in the kids section. I have a friend called Hisae who watched over there during her childhood and is about 25 yrs old now and quite over it. She remembers having pyjamas or something but that's about it. That's NOT an image I like but its how the world perceives the series now.
But lets see. My dad was 25 yrs. old when he first saw Star Wars. It has been almost 30 years since then and not only is he still a fan, he will greedily watch anything SW thrown his way!!! Star Wars was created a long time before SM and it should have died out by now but fans have kept it alive and in business. SM is only 16 years old but already in the dust about to be forgotten.

LETS NOT LET THIS HAPPEN
. If I am the only one here then I shall create my own little world. If you wanna join then just tell me so xDDDDDD
I have NO BUDGET so we can't make a fancy page like Star Wars but we could start by... I dunno, off the top of my head...uploading pictures of every one's SM collection so that we can begin a community here. :O!!!! I have other ideas as well. I hope someone out there is willing to participate.
And just for the heck of it. I'll post my most recent drawing... I know I know.... still ugly like the rest but I can't seem to gather energy to draw nicely.